Getting 5v for your gizmo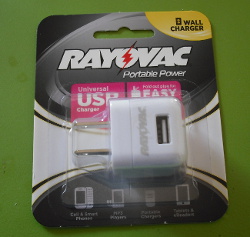 It seems everything electronic these days takes 5v power, including many of the gadgets I make. So how do you power these? Well, it just so happens that cellphones, ipads, smartphones and about any rechargeable portable thing has standardized on a USB cable for charging, and you can find these chargers all over the place. This one was $7 at Wal*Mart.
This one didn't come with a USB cable, but it didn't take much digging to find an old phone charge cord from a phone I don't use any more. It had a USB plug on one end and something odd on the other.