Example code for Microchip (Atmel) SAM devices
Miko explains parallel circuits
Understanding Battery Ratings
"Afrotechmods" explains battery capacity ratings.
Botanic Volcano Clock
Here is the clock I built for operating the toy volcano at the Chicago Botanic.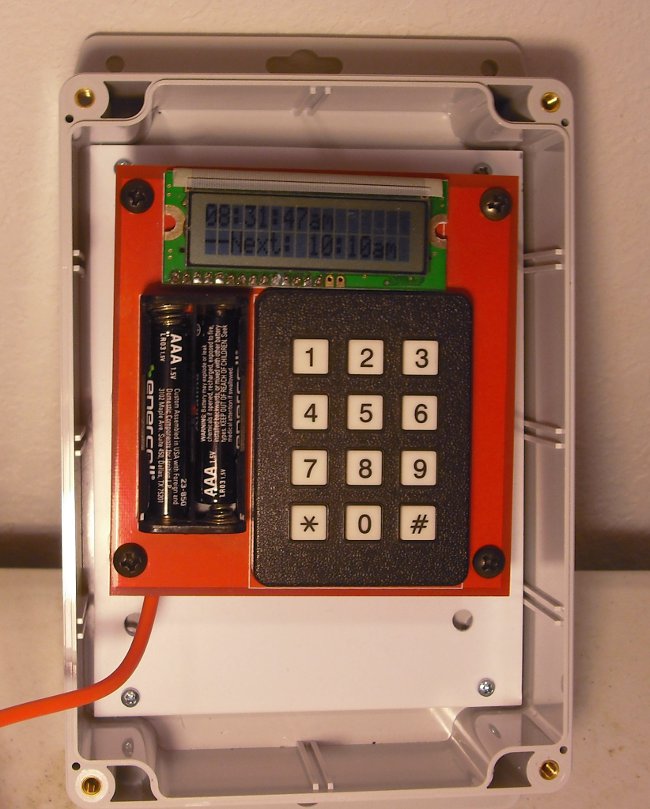 It has an RF connection to a receiver board hidden in a shed and wired to the "volcano." The receiver connects to relays controling the power to the smoke machine and audio amplifier, the smoke machine's fluid pump, and to 2 triggers on a sound board to control the sound.
I mounted the clock in a Nema 4 enclosure so it can be mounted outside where the people can see it and know, "When's the next eruption?"
There's also a 6 button fob the staff can use to set the clock and to force an unscheduled eruption.
Prototype Parts!
I just got some sample boards from the PC board shop. One of them connects to a little display module that everyone else gets working in a day or two. I've been all week now
.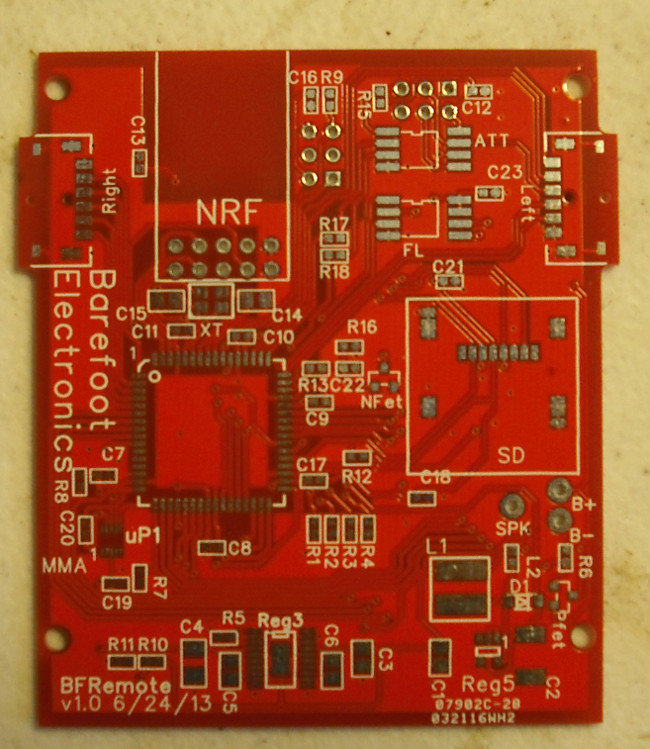 Man, what a lousy photo. Maybe I'll not show it.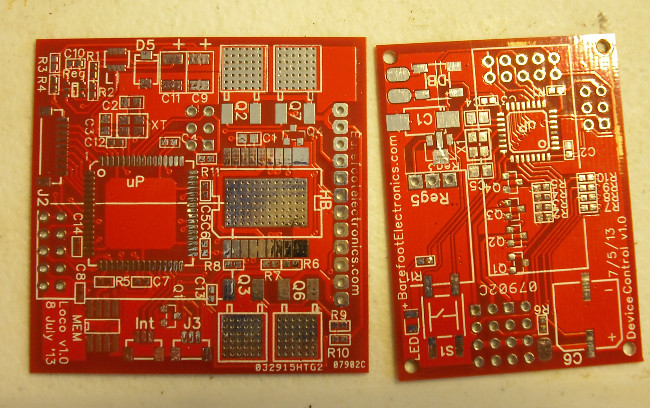 For some reason, these very tiny electronic parts will stick to a magnet. Annoyingly, no matter how careful I am, my micro tweezers always get magnetized. Enough all ready!
I started with a plain old, cheap aquarium pump. "This is the dawning of the age of aquariums!" Oh, no. Got sidetracked there. Of course, an aquarium pump blows, and I wanted something to suck. First I verified that it blows nicely, then took out the 2 screws that hold it together. Inside is a coil, a magnet and a rubber diaphram. "So where's this thing get its air from?" I see! A tiny little hole underneath the diaphram.
I drilled out this tiny hole to 1/16 inch 'cause that's the smallest brass tube I had on hand. Then I made a 1/16 hole in the vinyl air hose to stick over the tube. I plugged up the end of the hose with JB weld, stuck the tube into the hole, and stuck the works into the tiny hole I'd drilled out. I ran the hose out another hole I drilled in the pump.
Ah, yes. It sucks nicely.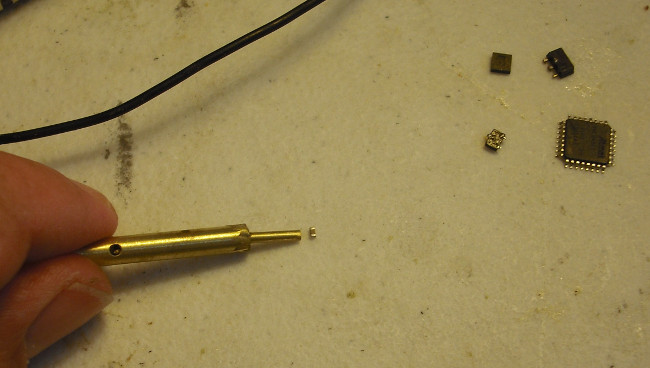 I found a bigger piece of brass tube that fit snugly into the hose. I drilled a little hole in it to control the air flow. Then I use JB Weld to put another piece of 1/16 tube in the end. Now, I can put my finger over the hole to pick something up, and take it off to put it down.
Should have left the brass tube a little bit longer. It'd be easier to work that way.
It is quite handy at picking up "0603" size parts and putting them down. These are the parts that always cling to the tweezers. It can also pick SOT 23, SOT 89, that annoying 4mm square leadless thing, and, with a little care, even that 32 pin TQFP. You have to get the TQFP right in the middle, or it won't pick up. Evil 0402 size capacitors are sucked into the tube and perish in the abyss as their foul deeds deserve.

The odometer has become a speedometer! Now shows speed while moving and the top speed when stopped.

1 LED Mars Light
Here's a video of a 1 LED Mars light. Almost ready for production. With a bright white LED, it can reflect from nearby objects in a rather realistic manner.
(I didn't say it was a GOOD video.)

LED's are really easy to use, and if you know just one thing about electricity you can make them do their thing with no worries.
So who was George Ohm, and what does he tell us about LEDs? See the info page at Info.

I got the sample boards from the PC board house and they're beautiful! I hope to have some to show and sell at Carlyle this weekend.

Mars Lights!
I have 2 versions of the mars light board. The 2 LED Mars Light lights 2 LED's alternately for that rocking feeling. The 1 LED Mars Light lights 1 LED with varying brightness to look like the Mars headlight.

New entry under Projects